I have really indulged myself this bank holiday (and the lead up to it) the weather has been mostly sunny and warm and I have selected three wonderful books to 'enhance' my enjoyment.
As I began this book I wasn't hopeful, the cover was uninspiring and I felt that it might turn into a 'flavour of the moment' story as there are books out there with similar titles. But I shouldn't have judged a book by its cover!
The central character is called Audrey Hepburn, so she's spent much of her life striving to live-up-to or run away from the expectations of that famous icon's name. A single parent with an 18 year old son who lazes about rather than looking for a career, she often feels in the way at home because her son & his girlfriend are forever snuggled up, in the living room, in the bedroom, with undies scattered all over the house, which really gets on Audrey's nerves!
Audrey has 2 jobs, a dinner lady and a elderly person's carer, then she wins a prize! She's voted best dinner lady & can take money or attend a cookery course. As funds are tight she almost takes option 1 but then she has a 'what the hell' moment & takes the course. She stays in a plush hotel, others on the course are upper crust types she wouldn't normally meet. The rather florid celebrity chef takes a shine to her ... funny and embarrassing escapades ensue. At this point I thought I knew where the story was headed: I couldn't have been more wrong.
Complications come in the form of Audrey's young lover, who she regularly 'liaises' with at motels. He seems exciting, he makes her feel desirable and attractive, but is he what he seems? Next minute, her son is in the middle of a drama and her job as a carer is at risk because the old lady's daughter plans to sell up and put her mother in a home. Audrey's mid-life crises are humorously dealt with.
Does Audrey find love? does she change her vocation? does her son become gainfully employed? I wouldn't want to include spoilers, but suffice it to say that Audrey no sooner solves one problem than another rears its ugly head, but she has loyal friends and an ex ready to encourage, support and fortify her as she struggles to find solutions. I thoroughly enjoyed reading this book to find for myself. Pop this one in your beach bag, it makes a great frothy summer read.
Possibly my
favourite chick-lit of 2017
: I truly could not bear to put this book down! The characters were so fabulously eccentric, the heroine - Alice McBride - was a wonderful mixture of fragility and strength, and the love interest (US country singer Robinson Duff) was such a romantic, dependable hunk I was half in love with him myself!
I really couldn't begin to describe the plot and do it justice, but the English village setting during a heatwave instantly makes it a great summer read. The story starts with double heartbreak and follows Alice and Robinson's efforts to get their lives back on track. I adored Stewie who was a 70s porn star - with his many wigs and outrageous outfits the mynah bird owned by the local 'white witch' is also a great source of humor and secret-spilling.
Robinson is as gentle and thoughtful as one could wish from a gallant southern boy, but his attempts to forget all about Nashville and his stellar career are fairly unsuccessful. Alice is enchantingly loyal to her home, Bourne Manor and is driven to be its custodian for years to come, no matter what sacrifices she must make. The pair vow that this will be a
HOT
holiday romance and that they won't get involved - but we've all heard that before haven't we?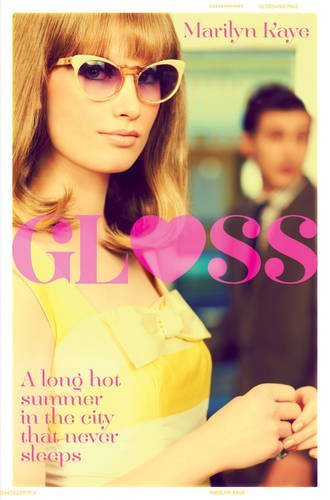 This novel is set in 1963 and is about a group of girls who have won places as interns at Gloss - a magazine aimed at teenagers. The plot follows four of the interns as they experience moving to New York from other states in America, and the most interesting feature of the novel is its exposure of each girl's previous concepts of life and social structures and how they are required to adjust these as they mix with different ages, backgrounds and cultures during this one summer.
Marilyn often writes for a YA readership so its no surprise that this book has a coming of age feel. The girls must deal with sexual advances, pregnancy, sexism in the workplace, adultery - all this while finding their feet, keeping secrets while not being sure who to trust as they are
all
newcomers to the big apple and working life.
The story has a lot of pace, the girls want to experience as much as possible in a short time as each only expects to be in New York for this one summer. Lovers of
Hairspray
and
Grease
will find several points of reference in the book and, as a big fan of
Ugly Betty
, it was great to cross reference with how the wheels of a magazine turned back in the 60s.
Definitely a chick-lit novel which is
not run of the mill;
again, great poolside reading.